June 02, 2022
BOISE, Idaho
Idaho Driver Record Dashboard
The market talked, and we listened. In May we launched an enhanced version of the highly successful Idaho Driver Record Dashboard service. The service will continue to promote highway safety by giving employers a convenient way to monitor the driving record of their employees who operate both commercial and non-commercial vehicles. The new enhancements now allow employers to be notified of a change to a commercial driver's medical certification or if a commercial driver's license status changes such as being downgraded or expired plus the standard conviction and suspension status.
Employers with drivers need this information for proper risk management (taking bad drivers out from behind the wheel) and to meet federal motor carrier regulations for their fleet drivers. To get started, sign up and:
Build a list of Idaho driver's licenses to monitor for changes.
Purchase driver's license records at any time individually or in bulk.
Their roster of records are checked twice a month (early and mid-month) for changes. Receive email alerts for flagged driver's license records, which are available for review.
View medical certification issue/expiration dates updated nightly.
View driver's license and commercial driver's license expiration dates.
This service is also available to state and local entities at no cost. If this might benefit your fleet risk profile, contact us (marketing@accessidaho.org) to learn how to sign up for the program.
Career Technical Education (CTE) and App Engine a success story
Idaho's Division of Career Technical Education (IDCTE) requires school Districts to submit a Local Annual Application and Career Technical School (CTS) Renewal Application to receive funding for CTE programs. CTE and CTS funding are calculated based on previous year's full-time equivalent (FTE) hours.
Okay, this sounds complicated… but wait there is more! CTE requires districts to upload three documents before filling out their application such as General Information and Approval form, Statement of Assurances and a Program Information form.
Got that? Most users don't. To streamline the process the AI team mapped out the user journey and designed a form and upload process to improve this process.
Using our App Engine form builder service users can submit all renewal applications and upload documents electronically for review, view links to download all necessary documents as well as instructions to the documents are provided, select all necessary information for districts and specifics of their current process then when done the agency is notified to begin the review process. If needed to prevent duplication of a filing the App Engine upload forms allows users to submit any missing or updated documents without going through the entire application process.
It's not government without a form to fill out but that does not mean the process can't be improved using our digital tool kit. When the service launched it eliminated hard copy documents and omitting unnecessary information through the process, while validating data and guiding their users through the application process.
Feel free to contact us (marketing@accessidaho.org) if you have a from and user journey that can be simplified with our App Engine digital forms platform and tool sets.
Sneak Peek at Our New Logo
This summer you will start to see Access Idaho rolling out an updated logo in our newsletters, social media, product materials and partner communications. The redesign incorporates two shades of blue that represent Idaho's state bird and our legendary rivers.
The Access Idaho initials combine to form a mountain peak as a tribute to Idaho's world-renowned geography. The modernized design represents our forward-looking optimism for Idaho's e-government initiative that has helped hundreds of public entities across this great state.
We are still the same dedicated hometown team you have worked with and trusted for the last two decades. It is only the logo that is being updated. Looking ahead, Idaho's public sector leaders need more tools and automation to keep pace with the rapid growth of the state's population and economic changes. To meet the demand for the next generation of digital government, Access Idaho is evolving to meet new purchasing, financing, and technology requirements. New enterprise services such as low and no code platforms are in production and helping Idaho government reduce technical debt and rapidly deliver new services.
As we look toward 2030, the momentum of secure digital government solutions will drive more efficient operations. The Access Idaho initiative is a sustainable business model that aligns with Idaho's government needs. The new logo symbolizes changes for the better to meet those needs.
Customer Spotlights
Alcohol Beverage Control
Simple as ABC! You know…Alcohol Beverage Control @ Idaho State Police. Access Idaho's Prompt Pay is proud to power ISP's ABC new online renewal service for Non-Profit Beer, Wine & Liquor permits, Beer and Wine license renewals, Liquor license renewal, Wholesale license renewals, and Direct Shipper license renewals.
After a renewal is submitted and approved by ABC, Prompt Pay will generate an email or text message to the permit/license holder requesting payment. After payment is confirmed by Prompt Pay, it automatically triggers ABC to email to the permit/license holder their credentials.
Clerk, bulk ,or API generated invoices sent by SMS text or email to help public entities do more.
---
The Idaho Human Rights Commission (IHRC)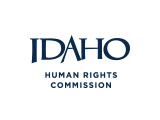 The Access Idaho team enjoyed working with the Idaho Department of Labor to re-launch the Idaho Human Rights Commission (IHRC) website on the WordPress platform for improved maintainability.
The IHRC is an independent agency established by the Idaho legislature to help protect persons within the state from illegal discrimination. The IHRC also handles complaints under federal law deferred to them by the Equal Employment Opportunity Commission (EEOC).
To find out more about this great organization, visit https://humanrights.idaho.gov/.
We Create Solutions
All services listed above are provided at no cost to you under the Access Idaho contract, the administrator of Idaho's official Web portal (Idaho.gov) and provider of electronic government solutions for the state. The manager for the portal is NIC Idaho, a subsidiary of Tyler Technologies Inc.
Jeff Walker,
General Manager
208-332-0102
jeff@accessidaho.org
We Create Solutions
All services listed above are available under the existing Access Idaho contract, the administrator of Idaho's official Web portal, and the provider of electronic government solutions for the state. The manager for the portal is Idaho Information Consortium, LLC (IIC, LLC), a subsidiary of Tyler Technologies Inc.